Stories Told by Hand from Kobbit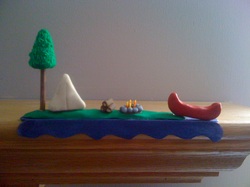 A Perfect Site
Welcome! Come on in and have a look around.
Ever since my childhood in Newfoundland, I have always been happiest when creating.
Six years ago, I created my first polymer sculpture and fell in love! I've since handcrafted countless miniature scenes and still adore the feel of the clay and the endless possibilities of a new brick!
I fold that joy into every piece of my art and never grow tired of the amused chuckle of those encountering my work for the first time, the sentimental reactions from those who are reminded of home, or the exclamations of delight when people discover the fine details of a piece.
I want my work to make people smile or think of a happy time. I believe it does just that.
Most of my products have many different materials, but are mostly sculpted with polymer clay. My speciality is a truly unique creation affectionately referred to as a "Topper" since it is meant to sit on top of a picture frame, shelf, mantle, computer monitor, windowsill....you get the idea.
I cut each base from wood and then sculpt or build each element for the top. Since they are entirely made by human hands without the use of moulds, each Topper is unique. What you will see on this site are many examples of my work. If one catches your fancy and you must have one for your very own, please just send me an email from the "Contact Us" link above. I'll get back to you and ask if you want to change any colours or details. The Topper you receive will be just for you and most probably will not look exactly like the picture. There are a number of designs with new ones added all the time - but I also do special orders where you can tell me whatever you would like and I will make it for you. Your imagination is really the only limit! Check out some "Commissioned Work" link for some fun examples of what's been created so far.
I am always looking for comments, questions, and suggestions. Please feel free to contact me. I'd love to hear from you.
WE HAVE A STORE!!! :)
​Kobbit has joined a group of wonderfully talented folks at "Next Door" in Harvey Station, New Brunswick. We are at the Upper Village Mall next to the "Westfalia Cafe and Bakery". Come on by for a coffee and a browse if you are in the area!
​
NEXT DOOR WINTER HOURS:
THURSDAY - SUNDAY 11:00 - 5:00
UPCOMING EVENTS 2018stay tuned..... :)